Dope Soda
Thirsty for music that is both dangerous and danceable, refreshing as a mojito and as eye-opening as a whiskey sour? A cocktail party mix of reggae, punk rock, jazz, hiphop, and ska? This is DopeSoda.

Dope Soda formed in late 2011, a fresh concoction of six of the top jazz, rock, and Jamaican-music-inspired musicians from Vancouver Island, with frequent appearances in acts such as Current Swell, Jon & Roy, and The Bananafish Dance Orchestra. The band is led by a three-piece horn section with roots in the highly-regarded Vancouver Island University Jazz Department, buoyed by a funky rhythm section that serves up sips of bubbling Hammonds and Wurlitzers, shots of distorted guitar, and heavy bass–in your face.

Dope Soda jumps back and forth between reggae jams, punk-rock assaults, happy ska romps, and hip-hop throw-downs– a thirst quencher for audiences who need good rhymes and good times. Dope Soda's 1st full-length, "Carbonation," features a 12-pack of ska-punk-jazz-pop tunes (best paired with a West Coast IPA). It's carbonated party fuel; a beer-in-cheek look at video games, hallucinations, bar brawls, unsettled relationships, and the trials and tribulations of wearing an eye patch. Recorded in Nanaimo, B.C. and produced by a team of dancing rabbits. Drink up!
Audio
Videos
In this Video
Artist(s)
Dope Soda
Posted: Jan. 15, 2015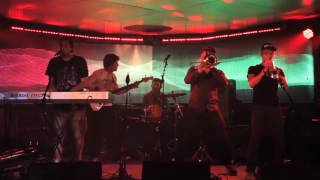 In this Video
Artist(s)
Dope Soda
Posted: Jun. 6, 2013
Shows
No Doubt Tribute ft. "DOUBTLESS" @ VICTORIA SKA & REGGAE FEST XIX
@ Capital Ballroom
Few bands from the great ska revival of the 90s left an impact as deep and as lasting as NO DOUBT. From their independent roots, through their rise set off by their classic album Tragic Kingdom, No Doubt's infectiously energetic ska-punk, fused in later years with more reggae and dancehall influences, still holds a special place in the hearts of ska-lovers everywhere. While these California legends aren't going to be gracing stages any time soon, we decided to put together an all-star lineup of musicians from some of our favourite local acts to pay tribute to this legendary ska band. Dubbed "DOUBTLESS" this one-of-a-kind group brings together members of Fox Glove, The Chantrelles, and Dope Soda, all backed by powerful soul-rock band Lovecoast, for a very special night as we pay respects to one of the bands that helped spread the word of ska to a whole new generation of music-lovers.

LOVEcoast is going to be rocking their own set and with their new album "The Trip" just released, they're going to be full on new tunes and new energy. The ultra-smooth homie MT. DOYLE will keep things bumping between sets with his tremendous taste and ear for grooves of all kinds.