Sweet Leaf
Formed in Victoria in 2011, SweetLeaf is Victoria's hardest-working and hardest-partying ska band. The members of SweetLeaf are seasoned Ska & Reggae Fest veterans, this year marking their third consecutive appearance. The group began after singer-guitarist Chris Jones answered an online ad, with the band then forming in just a few months. Their reggae-rock rhythms are reminiscent of hanging out with friends at the beach, drinkin', smokin', and straight West Coastin'. This local super-band performs with a punchy attitude contrasting the nature of their name.

With a three-piece horn section, SweetLeaf's collaborative ska sound also pulls in influence from funk, soul, and punk. These boys know how to command a stage and keep an audience dancing. Having just released their debut LP, Stress Leave, SweetLeaf embodies new-age Canadian ska and reggae vibe.
Audio
Videos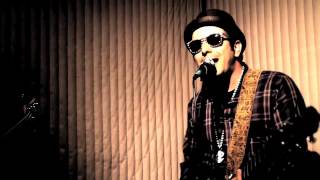 In this Video
Artist(s)
Sweet Leaf
Posted: Jun. 6, 2013
Shows
SweetLeaf, Illvis Freshly LIVE, Lady AK @ VICTORIA SKA & REGGAE FEST XIX
@ The Upstairs Cabaret
We're bringing together two of Victoria's partiest powerhouses for a serious Thursday night throwdown for Day 2. The city's most skanin' ska rabble-rousers SWEETLEAF come back to get rowdy with all our Ska & Reggae Fest faithful again. These longtime friends and family of the Fest always bring their big, bouncy ska music with a near-lethal sense of fun. We couldn't think of anyone better to get the crowd bouncing for our first Festival show at Upstairs!

It seems every time we see Illvis Freshly they have something new to add to the arsenal, some new sonic weapon to get the an audience riled up and jumping. Last year they hit our main stage with a phalanx of friends and this, the year 2018, the homies come wit the debut of ILLVIS FRESHLY LIVE. Backed by a full band, this is going to be the baddest and most hard-hitting Illvis Freshly show anyone has ever seen.

Joining these two Victoria party staples is the incomparable LADY AK. One of Vancouver Island's most versatile bass-dealers, Lady AK's deep knowledge of all genres of music and ability to read a room makes each of her shows completely unique classes in groove. For over a decade her skills have taken her to festivals and gigs around Canada and Europe and finally she makes it to a Victoria Ska & Reggae Fest stage!