Culture feat. Kenyatta Hill
Kenyatta Hill's career began the day his father's ended. Joseph Hill, singer and songwriter for the legendary Jamaican vocal trio Culture, collapsed and died while on a 2006 tour of Europe. To the amazement of promoters, fans and critics alike, Kenyatta stepped onstage and delivered electrifying performances time and again - nineteen shows in all - until the tour was complete. This was unheard of in any genre of music at any time. Kenyatta gave of himself so totally – as his father had for so many years – that the two seemed to become one, the eerily similar voices and the vibes igniting the critics and yielding a new reggae mantra "magic, not tragic!"
At the Ranny Williams Center in Kingston Jamaica at the memorial concert for his father, Kenyatta's performance with Culture was the highlight in a star studded night and garnered him the rousing support of the hard-to-please Kingston reggae audience. Kenyatta went on to front Culture in a series of performances in the US, Caribbean, Brazil, Argentina and Peru, again leaving audiences amazed and delighted.
Influenced by elements of dancehall, grounded in the roots tradition and motivated to carry on his father's work, Kenyatta set to writing – to finish songs that Joseph had started and create new music of his own. On his poignant debut single, "Daddy," (Tafari Records), backed by a masterful roster of musicians including Sly Dunbar and Dean Fraser, and produced by Lynford "Fatta" Marshall, he confronted the emotional pain and uncertainty he felt after the loss of his father. He cried while he wrote, just as audiences in Europe had cried while he sang.
Pass the Torch, the complete CD described as having "a collector's item feel," was released in 2007 to longtime Culture fans and critics who have embraced the son, named for Jomo Kenyatta, the first Prime minister of Kenya. With its "very lovely and high level vibe" Kenyatta Hill's first CD prompted one longtime Culture fan to proclaim "Culture is ALIVE."
Indeed, Culture featuring Kenyatta Hill continues to share the wisdom of Joseph's conscious reggae overlaid with Kenyatta's own lively and youthful musical vision. Touring in support of Pass the Torch with a number of festival appearances continued throughout 2009, including most recently a highly successful US tour with Beres Hammond.
Solo tour dates with a new band can be expected in 2010 as Kenyatta Hill expands his musical horizons beyond his formidable roots.
Videos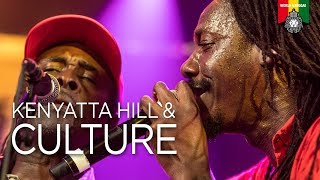 Shows
Culture's 40th Anniversary of TWO SEVENS CLASH @ Victoria Ska & Reggae Fest XIX
@ Capital Ballroom
One of the titans of the roots reggae movement, CULTURE has withstood the test of time and remains one of the genres most powerful and enduring acts. Staying true to their name Culture's music is dedicated to social, political and spiritual messages.
2018 finds the bands celebrating the 40th anniversary of their seminal album "Two Sevens Clash." Sounding unlike any other roots reggae records of its time, the album found Culture pushing the roots sound forward as they experimented with big-band swing, funk and and hints electronic music. Hailed as one of roots reggae's true masterpieces, "Two Sevens Clash" is as vibrant as ever with its pleas for justice, calls for peace and deep sense of joy resonating as much now as they did 40 years ago.

Fuelled largely by the intensely passionate vocal delivery of leader Joseph Hill, the group is rightly viewed as one of the foremost bearers of reggae music and Rastafarian culture, spreading their message around the globe over four decades. Though the group tragically lost Joseph Hill in 2006 after a show in Berlin, his son KENYATTA HILL, who had been working with the band as a sound engineer, stepped up to fill the gaping void left by his late father. The fires that started over four decades ago are as strong, as important as ever. Come celebrate one of reggae music's landmark achievements with us.

CALEB HART & THE ROYAL YOUTHS will be providing direct support to Culture on this very special night. One of the west coast's finest reggae bands, this incredible group of musicians is tending the roots of reggae music here on the coast, helping further prove that the reggae spirit transcends borders and can flourish anywhere.

Making her Ska & Reggae Festival debut on this night is the powerful ERICA DEE. Dee's diverse talents combined with a deep knowledge of and passion for an endless array of genres make her sets dynamic musical journeys that are as unpredictable as they are satisfying.

Holding things down between sets will DJ ROSSCO, one of Vancouver's most renowned Afrobeat DJs. The Nigerian-born DJ wasted little time in making his mark on the west coast as a go-to for some of the finest in Afrobeat, dancehall, hip-hop and trap beats.