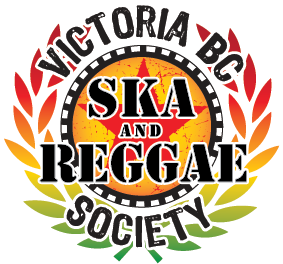 The Victoria BC Ska Society is a non-profit community organization of volunteers, staff and a board of directors whose main goal is to keep Victoria's Annual Ska & Reggae Festival improving and evolving year after year. Our goal is to entertain, educate and unite audiences nationally and internationally through the artistic development of ska, reggae and other Jamaican rooted genres such as rocksteady, dub and dancehall. The Society also presents other musical genres connected to these aforementioned including but not limited to Caribbean, various styles of Latin music, soul, jazz and world beat.
All those involved in the Society have a burning passion for supporting the ska and reggae scene throughout Vancouver Island, the Lower Mainland as well as Canada and the rest of the world.
Victoria Ska & Reggae Society Statement of Purpose
To educate the public on ska, reggae and other genres influenced by the Jamaican and Caribbean musical traditions and promoting their importance within Canada, in support of cultural diversity.
To empower youth, local musicians and music lovers to be active members of their local arts and music community.
Our activities include: an annual festival with a significant number of free all-ages and family friendly music events; year-round music programming and free workshops presented by musicians educating the public about musical history.
To present and commission local and international artists who work within various mediums (painting,performance, film and video, installations, spoken word, literature, culinary arts) inspired by Jamaican and Caribbean history, culture and musical genres that span generations and borders.
Collaborate with local schools, artists and community organizations to engage and educate the community about the rich musical and cultural heritage that Jamaica, the Caribbean and Canada share.
To work cooperatively with national and international governments in support of arts and culture inspired by Jamaican and Caribbean history.
You can view our bylaws here
History
The Society was first incorporated as a non-profit society in November of 2003 and by the summer of 2004 became the presenter of Victoria's Annual Ska & Reggae Festival, which was previously produced by Enigmatica Entertainment and CFUV 101.9 FM.

The Festival is dedicated to the memory of Matthew Bishop, host and producer of the inspirational ska radio program Skankster's Paradise at CFUV 101.9 FM. His legacy still lives on through the festival today.

Over the years the Society has been proud to present such legendary and emerging artists of ska, reggae, hip-hop and RnB as Toots and the Maytals, Mos Def, Ken Boothe, Leroy Sibbles (The Heptones), Fishbone, members of Sublime, Mighty Mighty Bosstones, Katchafire, The Black Seeds and Booker T Jones (of Booker T and the M.G.s).

Coming out of our 22nd straight year, the festival has grown to become the longest running of its kind in North America. Due to the unique programming offered through the festival, it attracts a strong audience from all over Western Canada, the West Coast and beyond.