The Resignators
Born from the death of many local bands and named after a RX Bandits album The Resignators are known amongst locals as 'The Band From The Spencer Street Dunnies'.

While it may seem unusual for an Australian band to play ska (for the uninitiated, ska was the precursor to reggae) it is actually quite natural. It was Australians living in Jamaica in the early 1960's, a band called the Caribs, that played on 90% of the first ska hits (largely un-credited as a studio house band at Ken Khoury's Federal Studios and Coxone Dodd's Studio One), and most early ska was engineered by Aussie Graeme Goodall, co-founder of Island Records!

The Resignators are mainly known as a ska band, but the band brings a wide variety of other influences to their music, as the members come from diverse backgrounds and decades. Band members run the gamut of innocence to experience with an astounding 40 year span between the oldest and youngest! It is appropriate that The Resignators sound is an amalgam of musical styles, because the original ska in Jamaica was also a mongrel mix – of jazz, rockabilly, and jump blues heard on US radio, combined with the native mento or calypso.
Audio
Videos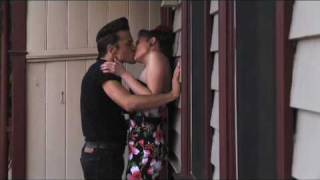 Shows
THE CREEPSHOW, THE RESIGNATORS & THE ANTI-QUEENS
@ Victoria Event Centre
Sat. May 30th
10pm - 2am doors at 9pm
$16.50 - $20 advance
Ticket Info
For anyone that likes punk, ska, psychobilly or just wants to dance and listen to good music, Victoria BC Ska & Reggae Society is proud to present Montreal's The Creepshow along with our good friends The Resignators from Australia and The Anti-Queens - an all female punk/rock group from Toronto!

It's been over three years since The Creepshow came to Victoria and now for the first time we are excited to present them. We already know The Resignators will give us an awesome show with their high energy ska and vintage rock. They have been long time friends of ours for years. If you haven't listened to them before you better gather your energy and get ready for some dancing because you're in for a sweaty affair!

Finally The Anti-Queens are an all female punk rock group who have been in the Toronto's punk scene for the past 10 years. Now the band is coming of age selling out venues in Eastern Canada. This burrito loving quartet have gathered rave reviews everywhere they've played including festivals such as Pouzza Fest and NXNE.