Booker T. Jones
It can be argued that it was Booker T. Jones who set the cast for modern soul music and is largely responsible for its rise and enduring popularity. On classic Stax hits like "Green Onions," "Hang 'Em High," "Time Is Tight," and "Melting Pot" the Rock and Roll Hall of Fame inductee, Musicians Hall of Fame inductee and GRAMMY Lifetime Achievement Award recipient pushed the music's boundaries, refined it to its essence and then injected it into the nation's bloodstream.

While Booker T. Jones is most known for his lead role on the B3 organ in Booker T & the MGS he has continued to record with the whose who of contemporary soul, jazz, rock n' roll, hip hop and Latin based artists. In 2009 Booker T Jones was featured playing the B3 on Rancid's album Let the Dominoes Fall on the track "Up to No Good." In 2011 Booker T Jones recorded his ninth studio album titled The Road to Memphis on the ANTI record label. On the album he is backed by hip hop/jazz juggernauts The Roots. A fan favourite on the album played by Booker and the Roots is "Everything is Everything" written by Lauryn Hill. This album also features songs with Yimi Yames of My Morning Jacket; Matt Berninger of the National and Sharon Jones of Sharon Jones & the Dap Kings who sing a duet "Representing Memphis" and Lou Reed on the track "The Bronx."

His tenth and most recent album Sound the Alarm 2013 marked his much anticipated return to Stax Records. Sound the Alarm, finds the Hammond B3 organ master looking ahead yet again, laying down his distinctive bedrock grooves amid a succession of sparkling collaborations with some of contemporary R&B's most gifted young voices.The album features guests appearances by Poncho Sanchez, Gary Clark Jr. Estelle, Anthony Hamilton and Vintage Trouble.
Audio
Videos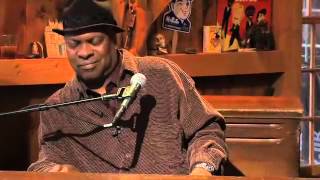 Shows
BOOKER T. JONES with KEITH & TEX and The New Groovement at VICTORIA SKA & REGGAE FEST XVIII (All Ages/Licensed)
@ Ship Point (Inner Harbour)
Victoria Ska & Reggae Festival is proud to host the legend, the titan of American soul and R&B, BOOKER T. JONES. For over half a century, Jones has been leaving his mark on American music, through his own work and collaborations with some of musics biggest and most diverse names like The Roots, Jim James and Gary Clark Jr, to name just a few. His song "Green Onions" has been a popular staple for years and is the only instrumental song included on Rolling Stone Magazine's "500 Greatest Songs of All Time." After his unforgettable performance at Alix Goolden last year, we thought it was only fitting to bring this legend back, this time on our signature stage, in front of the majesty of the Inner Harbour sunset.

Providing direct to the legend of American music will be two titans of Jamaican music, Keith & Tex. The golden-voiced innovators of rocksteady started their journey over half a century ago and are still traveling and singing, delighting audiences around the globe with their incredible harmonies. Songs like "Stop That Train," "Don't Look Back" and "Tonight" remain some of reggae's most enduring classics, instantly recognizable and always welcome.

Joining Mr. Jones and Keith & Tex on this very special night is Victoria's own jazzy funksters, the New Groovement. The powerfully fun 11-piece is custom built to get heads nodding and rumps shaking. Their powerful horns will start the night off right, helping energize the crowd for an unforgettable evening.