Dope Soda
Thirsty for music that is both dangerous and danceable, refreshing as a mojito and as eye-opening as a whiskey sour? A cocktail party mix of reggae, punk rock, jazz, hiphop, and ska? This is DopeSoda.

Dope Soda formed in late 2011, a fresh concoction of six of the top jazz, rock, and Jamaican-music-inspired musicians from Vancouver Island, with frequent appearances in acts such as Current Swell, Jon & Roy, and The Bananafish Dance Orchestra. The band is led by a three-piece horn section with roots in the highly-regarded Vancouver Island University Jazz Department, buoyed by a funky rhythm section that serves up sips of bubbling Hammonds and Wurlitzers, shots of distorted guitar, and heavy bass–in your face.

Dope Soda jumps back and forth between reggae jams, punk-rock assaults, happy ska romps, and hip-hop throw-downs– a thirst quencher for audiences who need good rhymes and good times. Dope Soda's 1st full-length, "Carbonation," features a 12-pack of ska-punk-jazz-pop tunes (best paired with a West Coast IPA). It's carbonated party fuel; a beer-in-cheek look at video games, hallucinations, bar brawls, unsettled relationships, and the trials and tribulations of wearing an eye patch. Recorded in Nanaimo, B.C. and produced by a team of dancing rabbits. Drink up!
Audio
Videos
In this Video
Artist(s)
Dope Soda
Posted: Jan. 15, 2015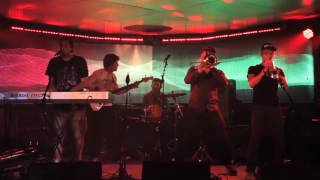 In this Video
Artist(s)
Dope Soda
Posted: Jun. 6, 2013
Shows
Victoria Ska & Reggae Fest XVIII closing show. ROOTS ROUNDUP'S FESTIVAL DEBUT!
@ Ship Point (Inner Harbour)
Sun. June 18th
2pm - 9pm
Free
VICTORIA SKA & REGGAE FEST FREE FINAL DAY EXTRAVAGANZA!

Vancouver reggae legends ROOTS ROUNDUP finally take our Main Stage at Ship Point to help close out another year of super-fine music and art. The music of the longtime champions of west coast reggae was instrumental in the formation of both the Victoria Ska & Reggae Society and Victoria Ska & Reggae Festival. Their sunny, rootys riddims helped inspire our Festival founder and head, revealing the musical community at large and opening the door for new blood into the scene. It's an honour to have them at the festival, dropping their tunes and getting all the Massive dancing.

Nanaimo's first-string crave team, DOPE SODA, will be joining Roots Roundup on the stage, blasting their ultra-friendly, beer-soaked ska music out into the crowd, getting the party jumping to incredible heights. These rowdy ruffians always put a smile on the faces of their crowds and this won't be any different. Los Angeles guitar maestro RUSTY ZINN will be rounding out the proceedings with his incredibly warm brand of roots reggae music. After conquering the world of blues guitar, Zinn has set his sights on the world of reggae and has been making a splash since that change in direction. His albums and songs harken back to the beginning of reggae music, while still sounding wholly at home today.

Come down to the Inner Harbour and close out Victoria Ska & Reggae Fest XVIII in smooth, horn-filled style.

This show is FREE, ALL AGES and FULLY LICENSED (19+)!