The New Groovement
The New Groovement is an eleven-piece funk machine that blends elements of R&B, soul, and hip hop to create a funk-i-fied feast for the ears. If James Brown and Run DMC had a love child this would be it. The band's sound is as unique as it is versatile with its punchy horns, sweet vocals, clever rhymes, and tight percussion. Combined with an energetic stage presence, this band will make you shake everything you got!

NGM has been actively playing packed shows at popular venues such as Canoe Brewpub, Lucky Bar, and Upstairs Lounge, as well as headlining FernFest and other local festivals. The band recently rocked their first mini Island tour, playing a sold out show at Tofino's iconic "Mermaid Ball" (Oysterfest) and at Char's Landing, the musical hub of Port Alberni's Arts District. They also collaborated with local talent to debut the first ever Victoria Funk Fest last year, which promises to be an extremely popular annual event.

The New Groovement is truly home-grown talent, with most members born or raised on Vancouver Island and hailing from the music schools of Camosun College, UVic, Vancouver Island University and others. This musical force is propelled by the unstoppable energy of leader Groovin' Reuven Sussman (drums). The rhythms are laid down by Tejas Collison (bass) and Ben Scotney (guitar), with additional percussion by Geoff Mason (timbales) and Kim Maddin (congas). Theresa Pasaluko (lead vocals) seduces the crowds with sultry melodies while Danimal House (vocals/emcee) brings his signature high energy fun(ky) hip hop lyrics. The infectiously groovy melodies of the horn section are credited to the powerhouse combination of David Chase (trumpet), Jason Dolynny (trombone), Jonnie "be bad" Bridgeman (sax), and big, bad, Brad Justason (sax).

This up-and-coming group has quickly made a name for itself with its massive shows and energetic parties; it's one band you will not want to miss this year. Their newest CD release is a live album recorded at the 2013 BC Ska Fest Members' party.
Videos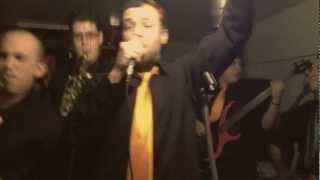 Shows
BOOKER T. JONES with KEITH & TEX and The New Groovement at VICTORIA SKA & REGGAE FEST XVIII (All Ages/Licensed)
@ Ship Point (Inner Harbour)
Victoria Ska & Reggae Festival is proud to host the legend, the titan of American soul and R&B, BOOKER T. JONES. For over half a century, Jones has been leaving his mark on American music, through his own work and collaborations with some of musics biggest and most diverse names like The Roots, Jim James and Gary Clark Jr, to name just a few. His song "Green Onions" has been a popular staple for years and is the only instrumental song included on Rolling Stone Magazine's "500 Greatest Songs of All Time." After his unforgettable performance at Alix Goolden last year, we thought it was only fitting to bring this legend back, this time on our signature stage, in front of the majesty of the Inner Harbour sunset.

Providing direct to the legend of American music will be two titans of Jamaican music, Keith & Tex. The golden-voiced innovators of rocksteady started their journey over half a century ago and are still traveling and singing, delighting audiences around the globe with their incredible harmonies. Songs like "Stop That Train," "Don't Look Back" and "Tonight" remain some of reggae's most enduring classics, instantly recognizable and always welcome.

Joining Mr. Jones and Keith & Tex on this very special night is Victoria's own jazzy funksters, the New Groovement. The powerfully fun 11-piece is custom built to get heads nodding and rumps shaking. Their powerful horns will start the night off right, helping energize the crowd for an unforgettable evening.