Grossbuster
After years of performing with touring bands, a solo project involving a midi controller and chopped up samples resulted in Grossbuster. He quickly joined the internet based beat collective Pragmatic Theory (UK) and played his first show in May 2013. In less than a year, Grossbuster has opened for Redman, Bun B, Jpod, Freestylers, Sweatshop Union, Stylust Beats, Ghettosocks, Marten Horger, Pigeon Hole, The Gaff, and many more in 2014, along with several BC festivals . 2015 will see this pad pusher breaking musical boundaries and crossing international borders to share his skills.

When he's not pondering just how dope his moniker is, Victoria's Grossbuster is making beats. And we don't mean just "in the studio"- this fella works his midi controller and proceeds to bash out the riddims live. It's a sight to behold and an amazing mix of drums and samples to hear.
Videos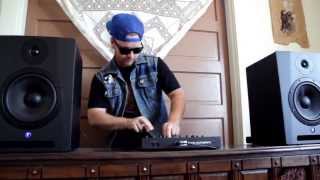 In this Video
Artist(s)

Grossbuster
Posted: Jan. 24, 2014
Shows
A Skary Spooktacular with Burnt, Hillside Hooligans & Grossbuster
@ The Rubber Boot Club
Thu. October 31st
9pm - 12:30am doors at 8pm
$13 - $15
Ticket Info
Our Skary Spooktacular is a musical family reunion that brings together many of the same humans that embarked on a California tour together almost 15 years ago. That family is One Drop and Burnt but today's incarnation of it brings us Burnt, Hillside Hooligans and Grossbuster (Nathan Cummings one of One Drop's lead singers).

We are excited to have California-based reggae/ska group BURNT back to Victoria after their appearance at Victoria's 20th Anniversary Ska & Reggae Festival this past summer. Burnt who love coming to Canada's west coast was initially based around Coachella Valley, but then relocated to San Diego in 2005, and eventually settled in San Francisco. The group combines reggae, dub, ska, soul, hip-hop, punk, and acoustic rock, and features environmentally and politically conscious lyrics, as well as songs about partying and relaxation.

Burnt are the perfect match for their brothers Hillside Hooligans that blend ska, soulful reggae and punk. Hillside Hooligans comprise four of the eight members of One Drop.

Grossbuster brings us a mixture of hip hop, reggae and drum n' bass. Nathan Cummings "Grossbuster" constantly experiments with new sounds with his midi controller. His knowledge of hip hop and reggae combined with his experience as one of the Island best keyboard players makes Grossbuster a versatile one-man unit!