Boomshack
Just dance. Those two words have been the driving force behind Boomshack since the beginning. Aiming to straddle the line between what is pop and what is hip, everything from rock and reggae to jazz and latin can be found in their music so long as it gets toes tapping and feet moving. Boomshack got its start in the summer of 2013. This is when the first songs were written, the sound was being formed and many a beer were had. Many. Fast forward to January 2014 and the lineup was solidified, the tunes were tight and they were raring to go. Composed mostly of graduates from Vancouver Island University's jazz program, Boomshack has recently recorded some tunes at Lois Lane Studios in anticipation of an album. Only one thing is for certain: if you plan to come to a show, better bring your dancing shoes.
Audio
Videos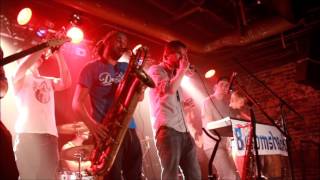 In this Video
Artist(s)
Boomshack
Posted: May. 24, 2016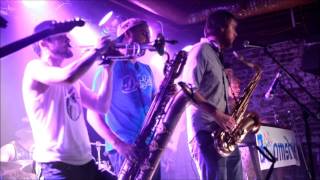 In this Video
Artist(s)
Boomshack
Posted: May. 24, 2016
Shows
Victoria Ska & Reggae Festival 20th Anniversary FREE Main-Stage Closing show!
@ Ship Point (Inner Harbour)
*This show is FREE, fully licensed and all-ages!*

We figured to help us wind down one of our most musically diverse lineups to date, we'd shut down Ship Point for Year 20 by giving the festival Massive something of a musical sampler platter, and hit as many of those sonic satisfaction spots as we could. Making his Victoria Ska & Reggae Fest debut and headlining the night is New Zealand electronic reggae emprersario ISAAC CHAMBERS. Fusing soulful reggae and hip-hop with electronic flourishes and deft live instrumentation, Isaac Chambers creates luscious, engaging rhythms to get you moving and back in touch with your funky inner child. He and his band of musical friends are sure to close down this years' main stage in seriously groovy style.

When a musical legend keeps whispering to you about a band, you kind of have to listen. That's how we found THE SCOTCH BONNETS – thanks to the constant insistence from David Hillyard of The Slackers. The Baltimore crew plays some of the bounciest punk-reggae tunes going today and are sure to be a shot in our arms on day 5, as we're all dragging just a little bit. Heating things up before The Scotch Bonnets is one of Canada's hottest purveyours of groove, BOOGÁT. Fresh off a Juno nomination for Best World Music album for his phenomenal San Cristobal Baile In, Boogát is setting the music world on fire with his powerfully funky mix of hip-hop, salsa, cumbia and reggaeton. The Quebec City native, born to immigrant parents from Mexico and Paraguay, sings in French and Spanish, paying homage to his whole, rich musical heritage. Getting things kicked off for our main stage closing showcase is inarguably one of the straight-up smoothest bands Vancouver Island has ever produced, Nanaimo's BOOMSHACK. The festival favourites are guaranteed to get your feet moving while concurrently soothing your soul with their warm, funky grooves.