Entangados
Even though they may dress like clowns, Entangados might be one of Argentina's most unique, exciting bands. Combining ska, rock, cumbia, salsa and Balkan folk music, En-tangados emanate fun and joy from the stage with the power of 100 suns. With guitars, horns and accordions, the band builds a wall of sound that act as powerful catalysts to the biggest dance parties. In the midst of all this music, the group employs actors to help cre-ate a carnival atmosphere that will captivate and excite audience members of all ages.
Videos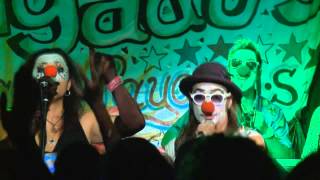 In this Video
Artist(s)
Entangados
Posted: May. 14, 2016
Shows
ENTANGADOS FROM CORDOBA, ARGENTINA RETURNS TO VICTORIA SKA & REGGAE FEST XVIII
@ Lucky Bar
Entangados as a band displays explosive energy, musical talent and humour on and off stage. But they also have the power to make almost anyone they perform for or come into contact with feel welcomed and relaxed no matter who they are. Musically the band combines ska, rock, cumbia, salsa and Balkan folk music. In 2016 Entangados closed out Victoria's 17th Annual Ska & Reggae Festival with an unforgettable performance in front of thousands who witnessed it at Ship Point Inner Harbour.

This time around the band will be playing one of the festival's smallest venues at Lucky Bar. So fans that loved them last year are advised to purchase tickets through either a Jupiter VIP Full Fest, Regular Full Fest or single passes!

Joining Entangados will be Montreal's OM Sound. The OM Sound is a tight trio merging genres of hip hop, electro, and jazz-funk to create a mesmerizing and groove-heavy sound. Their world travels serve as inspiration for their socially, environmentally, and spiritually conscious message, conveyed through soul stirring lyrics and rich soundscapes, wrapped up with in-the-pocket beats and blow-your-mind bass lines.