Jah9 and The Dub Treatment
Deeply mystical, Jah9 has emerged from a chrysalis of poetry, dub and spirit to become a powerful femiNINE energy within a universal grassroots movement of consciousness. Inspired by the open spaces in the instrumental dub of 1970's Jamaican roots music, Jah9 sings with a voice that belies the dimensions of her physical body, from a soul much older than its current vessel; "reminiscent of that darkly operatic wailer for truth & justice, Nina Simone." Her philosophy–profoundly spiritual, and her style–Jazz on Dub.
Audio
Videos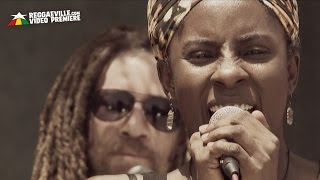 Shows
VICTORIA SKA & REGGAE FESTIVAL XVIII KICK OFF (FREE SHOW) - All Ages/Licensed
@ Ship Point (Inner Harbour)
Wed. June 14th
4:30pm - 10pm doors at 4pm
Free
VICTORIA SKA & REGGAE FEST XVIII FREE KICKOFF PARTY!

We're kicking off this year's Victoria Ska & Reggae fest with bang - A FREE show to rally the Ska & Reggae Massive and start the festival off with a powerful blast of energy. One of modern reggae's most powerful personalities, JAH9, makes her Victoria debut flanked by her powerful reggae band THE DUB TREATMENT. With her incredible voice and passion for life, Jah9 has made her mark through her music, her art and her yoga. The Jamaican native represents all the good things we love about reggae music and is the perfect headline act to set off our Main Stage at Ship Point. The groups powerful dub reggae is going to provide you with some bottom-end heavy riddims and positive vibes to power you through the rest of Festival week!

Joining Jah9 & The Dub Treatment to soak the Massive in sunny reggae vibes are Colombian reggae outfit MISTICA, making their Canadian debut. The band, close friends of past festival favourites Providencia (Complete with a former member of the outfit), Mistica has been making waves all over South America since their inception just a couple short years ago. Vancouver Island reggae warrios CHEKO & THE LION ROCKERS return to the Ska & Reggae Fest stage for a display of some of the finest roots reggae music that BC has to offer. And to kickstar the proceedings, OUT OF CONTROL ARMY is storming out Mexico City, bringing their ultra high-energy ska music to Canada for the first time! Come out, meet the rest of your ska & reggae community, and enjoy all this amazing music for FREE!

This event is ALL AGES and fully licensed for those 19+!