Kutapira
The Vancouver-based five-piece all-percussive ensemble, Kutapira, blend traditional Afro-Cuban rhythms with the melodies of Zimbabwean and West African folk and popular music. Kutapira can often be heard busking on the streets of downtown Vancouver, attracting a crowd with their frenzied high-energy brand of Afro groove. The members Jeremy Bryant, Kai Bouchan, Chris Couto, Sangito Bigelow and Theo Vincent can be seen shuffling around congas, djembes, timbales, Zimbabwean marimbas, and a drum kit in their live performances. Kutapira have been together for close to a decade and have released two album to date, Synergy in 2008 and Beginnings in 2013. If you like fast-paced, high-energy percussion with an African sensibility, Kutapira will surely deliver and have your feet moving at the same tim
Audio
Videos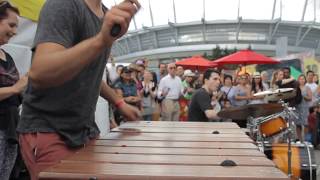 Posted: Nov. 18, 2020
Filmed: Aug. 12, 2018
Shows
Garden City Grooves VII - Day 1
@ Studio Robazzo
Let groove music flow and the good times continue with the seventh Garden City Grooves Festival! This year we will be celebrating groove music in all its flavours through live streamed performances from Studio Robazzo in Victoria. In addition to our live streamed performances we'll have some other special remote performances and pre-recorded programming to show you from our vaults that has never been released!

Musically the first day of Garden City Grooves will feature a mixture of Zimbabwean Marimba, Afro-Cuban & West African rhythms, hip hop and soul! We will be featuring two groups from Vancouver (Kutapira and Los Duendes) plus 1up Funk from Victoria and a special remote recording from The Soul Motivators in Toronto. Live streamed performances from Kutapira, Los Duendes and 1up Funk will air from 4:20pm - 8pm. The Soul Motivators remote performance will air around 8pm - 9pm. Note all times are approximate and subject to change.

This event is free but we strongly encourage you to participate in the broadcast by sending us messages as it happens. Also share this broadcast to everyone you know before, during and after it happens and subscribe to the Victoria Ska & Reggae Society youtube channel.