After nearly a decade, American ska legends THE MIGHTY MIGHTY BOSSTONES are finally making a triumphant return to the Victoria Ska & Reggae Fest stage! One of the most recognizable and enduring acts of the North American ska movement, the Bosstones were instrumental in introducing legions of new fans to the sounds of ska, infusing the classic sound with high-octane punk and incredible ears for hooks. With their new album "While We're At It" re-energizing the group, the Bosstones are ready to get the music-lovers of Victoria jumpin' and skankin' once again. This is their only stop in Western Canada this year, so you better not miss your chance to see these icons in action once again!

Joining the Bosstones for this Saturday celebration is powerful WESTERN STANDARD TIME SKA ORCHESTRA. It's only been a couple of years since this incredible band blew away a packed crowd at Ship Point with their unstoppable wall of horns playing some of the greatest ska music of all time. Also making the trip up from California are reggae superstars FORTUNATE YOUTH. For nearly a decade these laid-back reggae troubadours have been touring relentlessly, establishing themselves as one of North America's most reliably entertaining reggae bands. Highlighted by the phenomenal voice of lead singer Dan Kelly, a Fortunate Youth set is going to help you chill out and get irie while making you gasp with their insane level of musicianship as the band trades instruments and roles like nobody's business.

Also making their return to the Festival stage are Victoria ska legends THE HILLSIDE HOOLIGANS! Fresh off their incredible return at our St. Paddy's Day Throwdown, the Hooligans are re-energized and refocused after some needed time out of the spotlight. We're so proud to have these longtime festival friends and family on this massive bill for all our true Ska lovers! Holding things down between sets is one of Victoria's most reputable party-rockers and haver-of-incredible-taste THE FUNKEE WADD. Armed with a seemingly endless arsenal of funk, reggae, glitch-hop originals and remixes of eternal classics, your party life is in good hands when the Wadd is behind the decks.
Reviews
No articles have been linked to this profile
The Mighty Mighty Bosstones
(Ska/Punk/Reggae)
The Mighty Mighty Bosstones formed in 1985 in Boston, featuring Tim Bridewell, Dicky Barrett (vocals), Nate Albert (guitar), Joe Gittleman (bass), Josh Dalsimer (drums), and Tim "Johnny Vegas" Burton (saxophone), plus dancer Ben Carr. While all the members shared a love of ska, their tastes also ran elsewhere; Barrett, in particular, was involved i...
more info
Western Standard Time Ska Orchestra
Western Standard Time Ska Orchestra is the world's premier Jamaican Jazz Orchestra. At a "standard" performance, there are more than 20 world-class jazz musicians. Featuring past and present members of bands like Hepcat, the Aggrolites, Brian Setzer Orchestra, the Expanders, and many others, WSTKO have carved themselves out a wholly unique sp...
more info
Fortunate Youth
Fortunate Youth is a collective of six outstanding musicians/producers who have taken the worldwide music scene by storm. Spreading inspirational messages of Peace, Love, and Unity, Fortunate Youth connects music lovers from all over the world, creating a global family of positivity and progressive ideals. FY was born in Hermosa Beach California, a...
more info
Hillside Hooligans
(Reggae / Ska / Punk)
The Hillside Hooligans play gritty and soulful reggae, ska and punk-rock. Their style is characterized by honest lyrics, prominent solos, and plenty of style and tempo changes to keep things interesting. The four founding members played together in Victoria's reggae/punk favorites One Drop for over 6 years before starting this new project wi...
more info
The Funkee Wadd
(Funk/Glitch Hop/DNB)
The Funkee Wadd, born of an extraordinary man deemed Montgomery, and an angelic being by the name Of Mary-Helen, he has come to the western coast of British Columbia to bring one thing, and one thing only, Bass. With a main focus on The Funk and Breaks, he is no stranger to elevating a dance floor with the likes of Jungle, Fist Pumping Electro, Sex...
more info
Videos of this Event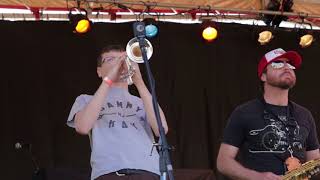 Posted: Sep. 19, 2018
Filmed: Jun. 23, 2018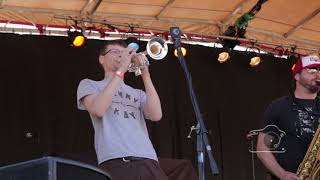 Posted: Sep. 19, 2018
Filmed: Jun. 23, 2018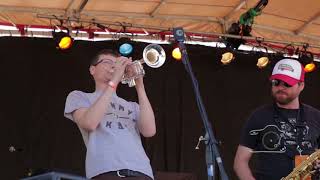 Posted: Aug. 17, 2018
Filmed: Jun. 23, 2018