Hillside Hooligans
The Hillside Hooligans play gritty and soulful reggae, ska and punk-rock. Their style is characterized by honest lyrics, prominent solos, and plenty of style and tempo changes to keep things interesting.

The four founding members played together in Victoria's reggae/punk favorites One Drop for over 6 years before starting this new project with a fresh batch of songs. They are joined by other vetrans of the Victoria ska & reggae scene to fill out their 7 piece lineup.

The name HIllside Hooligans, references the street in Victoria's Rock Bay industrial district where their original studio, the Hidden Gem was located. They converted a grungy old warehouse into a rehearsal and recording studio that served as a musical hub and hosted legendary jams and parties, especially during skafest.

In the summer of 2009, the original studio was sold out from under them and they were forced to move into a bland office building nearby. Shortly afterwards the band had meltdown and disbanded. In early 2010, Brandon was performing a solo acoustic show when, James and Shane suprised him up on stage to back him up with bass and drums,.The Hooligans were reborn.

In late 2010 the Hooligans found what they had been looking for: a space to create a new studio even better than it's predecessor. It would take a serious renovation, but it would be worth it.
The new Hidden Gem, was custom built to suit the needs of the Hooligans and the other bands and businesses that shared the space..

During the construction, tragedy struck. In front of a party of horrified onlookers, Shane fell from the second story mezanine onto a cement floor and table 12 feet below. Help arrived swiftly, but had flat-lined. Thankfully, the paramedics were able to revive him, and he pulled though.. The accident happened two weeks before the planned cd release of the Hooligan's first album, Tales from Rock bay.". The rest of the band managed to finish recording the album and performed a drummerless acoustic cd release show donating all the proceeds of the show and album to Shane's recovery.

His recovery was nothing short of miraculous. 3 months to the day, from lying dead on the concrete, Shane was playing his drums with the Hooligans at a packed hall opening up for the Aggrolites.

Today, the new Hidden Gem is complete and buzzing. The Hooligans are hard at work recording their second album. Like it's predecessor, and the One Drop albums, it will be self-produced and recorded entirely in their own studio, giving time for a maximum of attention to detail and creativity.
Audio
Videos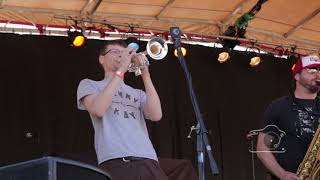 Posted: Sep. 19, 2018
Filmed: Jun. 23, 2018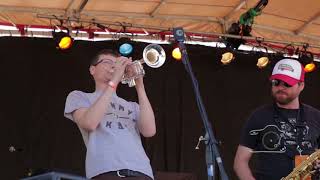 Posted: Aug. 17, 2018
Filmed: Jun. 23, 2018
Shows
A Skary Spooktacular with Burnt, Hillside Hooligans & Grossbuster
@ The Rubber Boot Club
Thu. October 31st
9pm - 12:30am doors at 8pm
$13 - $15
Ticket Info
Our Skary Spooktacular is a musical family reunion that brings together many of the same humans that embarked on a California tour together almost 15 years ago. That family is One Drop and Burnt but today's incarnation of it brings us Burnt, Hillside Hooligans and Grossbuster (Nathan Cummings one of One Drop's lead singers).

We are excited to have California-based reggae/ska group BURNT back to Victoria after their appearance at Victoria's 20th Anniversary Ska & Reggae Festival this past summer. Burnt who love coming to Canada's west coast was initially based around Coachella Valley, but then relocated to San Diego in 2005, and eventually settled in San Francisco. The group combines reggae, dub, ska, soul, hip-hop, punk, and acoustic rock, and features environmentally and politically conscious lyrics, as well as songs about partying and relaxation.

Burnt are the perfect match for their brothers Hillside Hooligans that blend ska, soulful reggae and punk. Hillside Hooligans comprise four of the eight members of One Drop.

Grossbuster brings us a mixture of hip hop, reggae and drum n' bass. Nathan Cummings "Grossbuster" constantly experiments with new sounds with his midi controller. His knowledge of hip hop and reggae combined with his experience as one of the Island best keyboard players makes Grossbuster a versatile one-man unit!