THE STEADIES
The band you've known as Mobadass is now known as The Steadies! Same great band, same wicked style, but poppa's got a brand new name.

The Steadies take the explosively popular Top 40 sound and mix it with rocksteady and reggae influences, creating what they've dubbed, "island rock." No matter your mood, The Steadies pick you up and carry you to the beach in your mind, the club in your dreams, the place you go to clear your head and dance. It's a scene where rumbling fault lines rip open the dance floor, and the only thing that keeps you from falling over is the gravitational pull of the steady beat. The Steadies aren't invited to the party --- they are the party.

The Steadies' frontman Earl Pereira got his rock n' roll pedigree as a founding member of the highly successful Canadian band Wide Mouth Mason, who had three gold records, three Juno nominations, and a host of other accolades and awards. Pereira has toured the world, playing over 3000 shows and opening for iconic artists like The Rolling Stones, Alanis Morissette, AC/DC, and Nelly Furtado. He was named one of Canada's top bass players by Canadian Music Magazine and has been featured on MTV, Muchmusic, and the Ryan Seacrest Show, as well as in publications like Rolling Stone Magazine and The National Post. The Steadies' established line up also includes Trinidadian guitar prodigy, Justin 'Juice' Lee and drum phenom Lex Moon.

Hitting the ground running, demand for The Steadies is already high with 100 shows booked a year the past 3 years. The Steadies have played with talent such as The Wailers, Ziggy Marley, Bedouin Soundclash, K-OS, and many more. They were showcased at the 2010 Winter Olympics and The Grey Cup and have performed countless festivals across Western Canada including Victoria Skafest, Vancouver Fusion Fest, Calgary Reggaefest, Sask Jazzfest, Regina Summer Invasion, Keowna Center of Gravity and more.

The band recently released their second full-length album Love Revolution digitally world-wide in July 2016.
Audio
Videos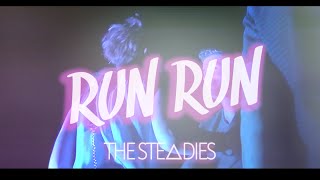 Shows
Victoria Ska & Reggae Festival 20th Anniversary FREE Showcase!
@ Ship Point (Inner Harbour)
*This show is FREE, fully licensed and all-ages!*

Victoria Ska & Reggae Festival has a bit of a reputation for digging up the musical diamonds and bringing them to our stages for all our Ska & Reggae Massive for our signature free shows and year 20 is no different. Coming up from Portland for their Canadian debut to headline the night are THE BANDULUS. This is a band seeping with soul, playing some of the most luscious ska and reggae tunes you're going to hear anywhere around these parts. We are so excited for them to make their debut with us!

Vancouver's rhythm powerhouse SALSAHALL COLLECTIVE is making the trek across the Strait for the first time and we can tell you, you do not want to miss this band! They opened up for Ozomatli at the Rickshaw this past January and they set the place on fire. Dancehall, salsa, hip-hop – whipped together and delivered with serious fire, Salsahall Collective should be on the must-see list for any serious groove lover this year. Before Salsahall Collective lays down their musical smoothness, another gigantic music-powerhouse (in terms of both size and sound) is making not only their festival debut, but indeed their world debut. THE CAPITAL COLLECTIVE is a veritable ska supergroup, gathering members from some of our favourite local bands – Dope Soda, Bananafish Dance Orchestra, Jon & Roy, Astrocolor, Batuque Axe, Lovecoast...and those are just the ones we know about now! We've heard rumblings of guests and surprises from this very special presentation, so we'll have to wait like everyone else! Kicking things off are our longtime friends THE STEADIES. One of Canada's most engaging reggae acts, it's been too long since The Steadies have been in Victoria and we figured Year 20 was the proper time to fix that. Expect big, warm sounds this whole night and ALL FOR FREE in our beautiful Inner Harbour. You have zero reason to miss this...

And be sure to grab tickets for the Cherry Poppin' Daddies rocking Distrikt with Apex Breaks and Stephen Lewis right after the harbour!