Dope Soda
Thirsty for music that is both dangerous and danceable, refreshing as a mojito and as eye-opening as a whiskey sour? A cocktail party mix of reggae, punk rock, jazz, hiphop, and ska? This is DopeSoda.

Dope Soda formed in late 2011, a fresh concoction of six of the top jazz, rock, and Jamaican-music-inspired musicians from Vancouver Island, with frequent appearances in acts such as Current Swell, Jon & Roy, and The Bananafish Dance Orchestra. The band is led by a three-piece horn section with roots in the highly-regarded Vancouver Island University Jazz Department, buoyed by a funky rhythm section that serves up sips of bubbling Hammonds and Wurlitzers, shots of distorted guitar, and heavy bass–in your face.

Dope Soda jumps back and forth between reggae jams, punk-rock assaults, happy ska romps, and hip-hop throw-downs– a thirst quencher for audiences who need good rhymes and good times. Dope Soda's 1st full-length, "Carbonation," features a 12-pack of ska-punk-jazz-pop tunes (best paired with a West Coast IPA). It's carbonated party fuel; a beer-in-cheek look at video games, hallucinations, bar brawls, unsettled relationships, and the trials and tribulations of wearing an eye patch. Recorded in Nanaimo, B.C. and produced by a team of dancing rabbits. Drink up!
Audio
Videos
In this Video
Artist(s)
Dope Soda
Posted: Jan. 15, 2015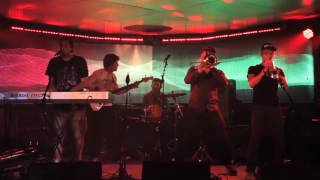 In this Video
Artist(s)
Dope Soda
Posted: Jun. 6, 2013
Shows
VICTORIA'S 18TH ANNUAL SKA & REGGAE FESTIVAL (JUNE 14 - 18, 2017) --> JUPITER VIP FULL FEST EARLY BIRD PASS
Booker T. Jones
,
TARRUS RILEY
,
The Black Seeds
,
Mad Caddies
,
The Skints
,
Jah9 and The Dub Treatment
,
Keith and Tex
,
Mike Love
,
Skampida
,
Perro Bravo
,
La Banda Skalavera
,
Shauit
,
The Boom Booms
,
Burnt
,
Entangados
,
Los Furios
,
Roots Roundup
,
Batuque Axe!
,
Tonye
,
Dope Soda
,
Illvis Freshly
,
Sweet Leaf
,
The New Groovement
,
Caleb Hart & the Royal Youths
,
Mistica
,
Tank Gyal
,
DOWN NORTH
,
Rusty Zinn
,
Jon Middleton
,
Out of Control Army
,
Blackwood Kings
,
The Party on High Street
,
Boomshack
,
Cheko & The Lion Rockers
,
Railtown Sound System
,
No Liars
,
The Om Sound
,
Dockside Green
,
Yellowsky
,
Ostwelve
,
Benny the Jett
@ Ship Point (Inner Harbour)
We are so excited to announce the dates for Victoria's 18th Annual Ska & Reggae Festival this is the earliest we have made these tickets available but they're here! Thanks to Jupiter (619 Johnston Street in Victoria) for being our platinum sponsor of our VIP section for a third straight year!

JUPITER VIP entrance provides the following:

Guaranteed entrance to all festival events at all venues (except Rocksteady Collective presentations) up to one hour before the event ends

* Jupiter VIP entrance will be accepted at Rocksteady Collective on a first come first serve basis. *Subject to capacity.

JUPITER LOUNGE VIP AREA AT ALL SHIP POINT SHOWS (offers special seating, stage side access and more!

JUPITER LOUNGE Beverage Service for all events at Ship Point

JUPITER LOUNGE VIP Bathroom at Ship Point

Dates and Line-up subject to change. No refunds or exchanges.

WWW.VICTORIASKAFEST.CA

FACEBOOK.COM/VICTORIA.SKA.FEST

* Note this pass is restricted to those 19yrs plus because it includes entrance into venues that have that restriction. However, the festival's main outdoor venue and many others are all ages. Separate tickets for events in all ages venues will be released at a later date. Kids 10 and under free with accompanying adult when applicable.
VICTORIA SKA & REGGAE FESTIVAL XVIII KICK OFF (FREE SHOW) - All Ages/Licensed
@ Ship Point (Inner Harbour)
Wed. June 14th
4:30pm - 10pm doors at 4pm
Free
Victoria Ska & Reggae Fest XVIII closing show. ROOTS ROUNDUP'S FESTIVAL DEBUT!
@ Ship Point (Inner Harbour)
Sun. June 18th
2pm - 9pm
Free