Los Furios
LOS FURIOS - Los Furios is a high-energy Ska/Reggae/Indie band that is quickly rising to international notoriety. Since 2002 they have been committed to entertaining their live audiences with a mash up of music. Los Furios performs an intense mix of reggae and punk infused ska originals (complete with a horn section) sure to get you out on the dance floor! Touring Canada, USA and Mexico, the band has won over a new fan base every show. They play in festivals and major venues all over North America. Los Furios have shared the stage with bands like Bad Manners, Aggrolites, Fishbone, Toasters, English Beat, Mad Caddies, Slackers, Mighty Mighty Bosstones, Planet Smashers, Creepshow, Katchafire, Slackers, Chris Murray, Pietasters, Inspector, Maskatesta, Mama Pulpa, Rastrillos, Los Benders, Adhesivo, Tokyo Ska Paradise Orchestra, Westbound Train, Pepper, DOA, Bedouin Soundclash, Vans Warp Tour etc etc etc. Los Furios have been around the block a few times all over the place. Don't miss out on the live show. You won't regret it. Vamanos! http://losfurios.bandcamp.com



Album "Warning Shot" Available
here
Videos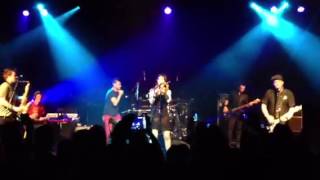 In this Video
Artist(s)
Los Furios
Posted: Jun. 3, 2014
Shows
VICTORIA'S 18TH ANNUAL SKA & REGGAE FESTIVAL (JUNE 14 - 18, 2017) --> JUPITER VIP FULL FEST EARLY BIRD PASS
Booker T. Jones
,
TARRUS RILEY
,
The Black Seeds
,
Mad Caddies
,
The Skints
,
Jah9 and The Dub Treatment
,
Keith and Tex
,
Mike Love
,
Skampida
,
Perro Bravo
,
La Banda Skalavera
,
Shauit
,
The Boom Booms
,
Burnt
,
Entangados
,
Los Furios
,
Roots Roundup
,
Batuque Axe!
,
Tonye
,
Dope Soda
,
Illvis Freshly
,
Sweet Leaf
,
The New Groovement
,
Caleb Hart & the Royal Youths
,
Mistica
,
Tank Gyal
,
DOWN NORTH
,
Rusty Zinn
,
Jon Middleton
,
Out of Control Army
,
Blackwood Kings
,
The Party on High Street
,
Boomshack
,
Cheko & The Lion Rockers
,
Railtown Sound System
,
No Liars
,
The Om Sound
,
Dockside Green
,
Yellowsky
,
Ostwelve
,
Benny the Jett
@ Ship Point (Inner Harbour)
We are so excited to announce the dates for Victoria's 18th Annual Ska & Reggae Festival this is the earliest we have made these tickets available but they're here! Thanks to Jupiter (619 Johnston Street in Victoria) for being our platinum sponsor of our VIP section for a third straight year!

JUPITER VIP entrance provides the following:

Guaranteed entrance to all festival events at all venues (except Rocksteady Collective presentations) up to one hour before the event ends

* Jupiter VIP entrance will be accepted at Rocksteady Collective on a first come first serve basis. *Subject to capacity.

JUPITER LOUNGE VIP AREA AT ALL SHIP POINT SHOWS (offers special seating, stage side access and more!

JUPITER LOUNGE Beverage Service for all events at Ship Point

JUPITER LOUNGE VIP Bathroom at Ship Point

Dates and Line-up subject to change. No refunds or exchanges.

WWW.VICTORIASKAFEST.CA

FACEBOOK.COM/VICTORIA.SKA.FEST

* Note this pass is restricted to those 19yrs plus because it includes entrance into venues that have that restriction. However, the festival's main outdoor venue and many others are all ages. Separate tickets for events in all ages venues will be released at a later date. Kids 10 and under free with accompanying adult when applicable.
LA BANDA SKALAVERA MAKES THEIR CANADIAN DEBUT AT VICTORIA'S 18TH ANNUAL SKA & REGGAE FESTIVAL! (19yrs+)
@ Victoria Event Centre
Victoria BC Ska Society is excited to present the Canadian debut of La Banda Skalavera from Los Angeles to Victoria's 18th Annual Ska & Reggae Festival. They are going to blow your minds!! This all Latino band play a mixture of ska core/punk, meringue, salsa, reggae and traditional folk.

La Banda Skalavera will be playing with Los Furios from Vancouver. Los Furios are a long-time fixture in Canada's ska scene and are about as old as the festival. Los Furios play a high energy brand of ska mixed with punk and reggae.

Together these bands will create fun and circle pits galore! We can't wait!!