Entangados
Even though they may dress like clowns, Entangados might be one of Argentina's most unique, exciting bands. Combining ska, rock, cumbia, salsa and Balkan folk music, En-tangados emanate fun and joy from the stage with the power of 100 suns. With guitars, horns and accordions, the band builds a wall of sound that act as powerful catalysts to the biggest dance parties. In the midst of all this music, the group employs actors to help cre-ate a carnival atmosphere that will captivate and excite audience members of all ages.
Videos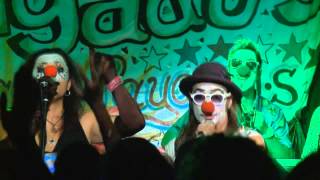 In this Video
Artist(s)
Entangados
Posted: May. 14, 2016
Shows
Macka B, Entangados, Blackwood Kings, Tank Gyal @ Victoria Ska & Reggae Fest 20!
@ Capital Ballroom
Sat. June 22nd
9:30 - 2am
$19.50 - $25 advance
Ticket Info
You know we couldn't have year 20 go by without at least one legend of Jamaican music making a debut in Victoria. And we are so very excited to welcome for the first time, the mighty MACKA B. Recognized as one of Britain's most legendary and influential influential dancehall toasters, Macka B has used his music to push dancehall back towards Rastafarian political consciousness, while bringing elements from other branches of the reggae tree like roots, dub and lovers rock. With a career spanning nearly four decades, Macka B has built a career on his insanely unique delivery and stage presence, and a voice unlike few others on this planet. Macka's voice is rich, emotive and able to downright wondrous things with cadence and timing, gentleness and ferocity. he music on his massive output of albums displays an uncanny ability to move between serious and more lighthearted subject matter in his music. Earlier albums like the landmark Sign of the Times (1986) and Looks are Deceiving (1988) are marked by dark political undertones with a constant eye on the struggle and strife of everyday life. Many know him from his wildly popular, on-going "Medical Mondays" web series where he shares his ever-growing knowledge of bodily health and veganism (Of which he is an adherent) spawned a surprise smash hit when his raps on the health benefits of cucumbers (Appropriately titled "Cucumba") went viral, racking up over a million views.

As if Macka B wasn't going to be one of the most fun shows all on his own, we've gathered up a couple of our favourite bands of rabble-rousers to jam-pack Night 4 of Victoria Ska & Reggae Fest. Argentina's foremost band of happiness-inducing musical clowns, ENTANGADOS is ready to return to Victoria do that super fun thing where they take ska, cumbia, funk and rock, mix them up all up then blast it at the audience from the stage with the radiant power of 100 suns. We also have one of our all-time favourite local bands, a true Victoria original – BLACKWOOD KINGS. Incorporating not just traditional reggae sounds and punk aesthetics, but also disparate influences from math rock to jungle and everything in between, Blackwood Kings is one of the most sonically exciting bands the area has produced in some time.

And holding it down between the bands it the one and only, the Vancouver riddim legend TANK GYAL. Long-time friend of Victoria Ska & Reggae Fest, the creator of the Thursday Ting – the longest running dancehall reggae night in Vancouver – and one of the founding members of Van's infamous Lighta! Sound Crew, Tank Gyal has most assuredly cemented her place as one of the west coast's foremost authorities on reggae music and its many offshoots.