Jonnie 5 Brass Band
The Jonnie 5 Brass Band brings together 5 of the finest and funkiest wind players from Victoria's thriving scene of horn-heavy dance bands, drawing members from local favourite musical acts the New Groovement and Bucan Bucan. The Jonnie 5 stir up a tasty jambalaya of New Orleans-inspired Jazz, Funk, Rhythm & Blues and Soul that will satisfy all your cravings for musical input and make you feel alive! The Jonnie 5 Brass Band features Jonnie Bridgman on tenor and baritone sax, Julia Knight and David Chase on trumpet, Allen Pleasants on trombone, Holly Dronyk on sousaphone and Geoff Mason on drums.
Videos
Posted: Feb. 12, 2021
Filmed: Nov. 29, 2020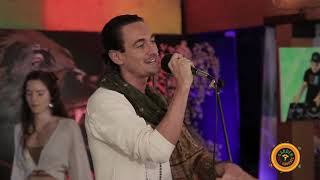 Posted: Dec. 4, 2020
Filmed: Nov. 29, 2020
Shows
Live from the Crooked Gates!
@ The Crooked Gates
Sat. July 3rd
2:30pm - 8:30pm
Free
The coming of summer brings warmer, longer days and an opportunity to present new music from more beautiful outdoor locations on Vancouver Island.

In the spirit of celebrating what would have been Victoria's 22nd Annual Ska & Reggae Festival, we're excited to bring you a premiere live stream experience from our Island oasis "The Crooked Gates"

Think of it as a funky, hip hop, ragtime, reggae party with some of the best bands Canada's west coast has to offer with food and visual arts. The vibe you'll feel when you watch this will bring you right there and you'll be reminded that you'll soon be experiencing this same kind of show and vibe live and in person. Do yourself a favour and watch this on a large screen with good speakers in your backyard with your friends and family. Experience the full magic Live from the Crooked Gates!

For the first time we're excited to welcome Five Alarm Funk to our ska/reggae musical family. We've talked about doing something for years and our ska/reggae family have always loved their music, so their confirmation was a natural progression. We're very excited not only to have them but for the bands that will be playing before and after them.

For only the second time ever Jonnie 5 Brass Band ft. Kia Kadiri will be doing a special performance with new material following up their unforgettable performance at our Garden City Grooves Festival at the end of November 2020. This is the only brass/hip hop band of their kind in BC featuring Canadian hip hop legend Kia Kadiri! Victoria Ska & Reggae Society is excited to be involved first hand in their musical development as their add new material to their repertoire.

Another new band we're welcoming to our ska/reggae family is Curtis Clear Sky & the Constellationz. We heard them shout out the Victoria Ska & Reggae Festival at Indigi Fest in Esquimalt in 2019 and we took note ;) Based out of Vancouver Curtis Clear Sky & the Constellationz create Indigifunk music that consists of hip hop, funk, Latin-Funk, soul, ska, reggae and blues.

Finally Reflectionz will be bringing fresh conscious hip hop and melodies to your ears and heart. Featuring a variety of rhyming styles, catchy beats and melodic rhythms, Reflectionz is quickly becoming known as one of the most talented hip hop artists on the west coast of Canada. He reps Vic town hard and we're proud present him for the first time on one of our presentations.

In addition to all this awesome music we have visual arts featuring Ian George and culinary features with Eric Holden from our Rocksteady Arts Collective.

So go forth and be happy! Spread the good news and be sure to subscribe to our youtube channel to see more great content.

This stream can be viewed on our web site www.skafest.ca, facebook.com/victoria.ska.fest and youtube.com/c/VictoriaSkaReggaeSociety