LowDown Brass Band
LW:DWN
LowDown Brass Band (LDB) deftly synthesizes the gritty sounds of Chicago with the high energy second-line street beat of the Crescent City. LDB brandishes a powerful brass frontline of trumpets, trombones, saxophones, with a funky backline of drums and sousaphone. Combining the poetic ferocity of Billa Camp with stellar vocal harmonies, adventurous improvisation, movement, and grooves, LDB creates an infectious and diverse sound that has something for every listener.

Fresh off their appearance at The 2017 Chicago Jazz Festival, LowDown maintains a constant performing and touring schedule throughout North America. In 2015, LDB released an ambitious project titled "LowDown Sounds" that included a critically acclaimed cameo by Roy Ayers on the track "Everybody Loves The Sunshine." LowDown Brass is now set to begin the next chapter with the release of their 5th self-produced full length studio album "LowDown Breaks." This new offering steps deeper into refining their unique sound, combining the hip hop sound with multiple world music and jazz styles.

"LowDown Breaks" sounds as if it could be comprised of samples – as if every instrument came off an old soul record - the drum "break" from a JB's record, or a horn blast ripped from an Al Green cut - and that was the idea from the beginning. But there are no samples on this record except in the transitions: DJ Alo (The Dread/Chicago) and Laelo (Sousa/Producer) sampled the LDB horns and drums, cut up them up, replaced, remixed, and create"LowDown Breaks." This concept is a nod to the breaks used by the original DJs and producers from the Golden Age of Hip Hop and gives the album a sound akin to "The Apache" or "Funky Drummer" while always sounding new and fresh.

"Lowdown Breaks" includes several marquee collaborations with stellar artists including: Chicago rapper Ang13 on "Cold Shoulder," Fada Dougou on "Don't Wait! Right Now!," DJ ALO and The Dread on "Ghost Town" and "Can I Kick It", as well as a remix for the video for "Can I Kick It" by Nick The Graduate (Illuminati Congo/Chicago). The album was tracked in Chicago at The Drake by Anthony Gravino (Davy Knowles/Marquis Hill) and mixed by legendary hip hop engineers/ producers Alex Gross and Dan Zorn at Studio 11. As track #1 iterates – LowDown breaks tradition, breaks expectations, and makes a break for your ears.
Videos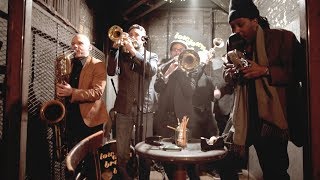 Shows
Less Than Jake, One Drop, LowDown Brass Band, Danny Rebel & The KGB, Mt. Doyle @ Victoria Ska & Reggae Fest 20!
@ Ship Point (Inner Harbour)
Sat. June 22nd
2pm - 10pm
$32.50 - $35 advance (Limited 4-packs for $119.50)
Ticket Info
Saturday night of Victoria's 20th Annual Ska & Reggae Festival is coming in hot and is going to be one of the most blisteringly fun nights on the summer calendar. One of the pillars of the third-wave ska revival, Florida ska-punk rockers Less Than Jake finally take on our main stage and all we can say is, "It's about time!" Legends of the genre, Less Than Jake has been relentless in their music and have firmly cemented themselves into the memory and playlists of ska fans around the world. Few bands have stuck to the DIY principals that birthed the movement like Less Than Jake and it's that dedication to their roots that has helped build a solid fan base from the ground up over two decades.

One of Victoria's most beloved bands is making a triumphant return to help us bring in year 20 in absolute style. ONE DROP is finally coming back to get the masses jumping. It's been a decade since these icons of rowdiness have joined forces to rock a crowd proper. In fact, their last show was at Victoria Ska Fest 10, opening for the Mighty Mighty Bosstones, and they return for our 20th, playing before another group of ska legends, Less Than Jake. If you want to see a professional, polished, flawless performance, One Drop is not what you are looking for. If you want to hear music that is raw, entertaining and unpredictable played by a crew of seriously talented maniacs who are almost as surprised as you are, this is your chance.

Joining these two Festival favourites is Chicago powerhouse LOWDOWN BRASS BAND. One of the quickest rising live acts in North America, the band's relentless touring schedule has taken them around the continent, dazzling audiences with their ridiculously funky, big brass grooves. Combining hip-hop, funk, ska, reggae and delivering it with the grit and grace of a New Orleans line, LowDown is making seriously exciting music and we're pumped to introduce them to our west coast massive. Kicking things off for our Saturday party under the sun are the self-proclaimed "Bastard Sons of Reggae," DANNY REBEL & THE KGB. Longtime friends of the festival and Montreal's greatest reggae ambassadors. 12+ years of playing their high-energy reggae has helped honed the band into one of the tightest, hardest-hitting groups of music healers in the country. And keeping it smooth in between sets is our dear friend and one of the coolest cats we know, MT. DOYLE. The resident DJ for hometown heroes Illvis Freshly, Mt. Doyle is a force to be reckoned with behind the decks. Versatile, knowledgable and as talented as they come around here, Doyle is always bringing the choicest grooves, no matter the genre.