Sister Nancy
Sister Nancy, aka Muma Nancy, real name Ophlin Russell-Myers, (born Ophlin Russell, 2 January 1962, Kingston, Jamaica) is a dancehall DJ and singer. She is known to the world as the first female dancehall DJ and was described as being a "dominating female voice for over two decades" on the dancehall scene. One of her most famous songs is "Bam Bam", labeled as a "well-known reggae anthem" by BBC and a "classic" by The Observer.

Russell-Myers was one of 15 siblings. Her elder brother, Robert, is better known as Brigadier Jerry, and by her mid-teens, she would occasionally perform on the Jahlove Music sound system that he worked with,[4] and worked for three years on the Stereophonic sound system with General Echo. In 1980, producer Winston Riley was the first to take her into the studio, resulting in her first single, "Papa Dean" for his Techniques label. Russell-Myers went on to perform at Reggae Sunsplash, making her the first female deejay ever to perform there, and she is also the first female Jamaican deejay to tour internationally. She had further success with singles such as "One Two", "Money Can't Buy Me Love", "Transport Connection" and "Bam Bam". Her debut album, One Two was released in 1982. She went on to work with producer Henry "Junjo" Lawes, recording "A No Any Man Can Test Sister Nancy", "Bang Belly", and a collaboration with Yellowman, "Jah Mek Us Fe A Purpose". She continued to appear live, sometimes on Jahlove Music with her brother. The sound system toured internationally, with both Sister Nancy and Brigadier Jerry making their debut UK performances at the Brixton Town Hall, London in 1982.

In 1996, she relocated to New Jersey. In an interview with The Jamaica Observer in 2002, Russell-Myers said that although she was working in the banking sector, that "music is [her] first love" and said she still performs "every now and then". She explained that her absence from the recording scene was due to her wanting to "give other female artists a chance", though she said she was still "as ready as the first day [she] came into the business". The Observer cited Russell-Myers a role model for a successive generation of female acts, including Lady Saw, Sister Carol, Mack Diamond, Lady G, Shelly Thunder, Carla Marshall, Lorna G, Lady English, and Lady P. In 2007, Russell-Myers released the second of her two albums, Sister Nancy Meets Fireproof, produced by djMush1, formerly of the Slackers (NYC Ska) on Special Potato Records. The album was distributed by Jammyland Records in New York, NY. The album features four original compositions, as well as four instrument versions of the aforementioned songs.
Videos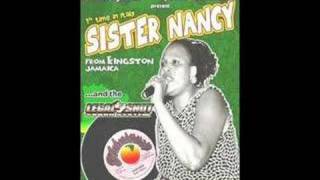 Shows
Ky-Mani Marley, Mamá Pulpa @ Victoria Ska & Reggae Fest 20! REGGAE SUMMER SOLSTICE SPLASH!
@ Ship Point (Inner Harbour)
Fri. June 21st
4 - 10
$35 - $39.50 advance (Limited 4-packs available $129.50)
Ticket Info
As luck would have it, Victoria's 20th Annual Ska & Reggae Festival falls right around this years Summer Solstice. And what goes better with a long, sunny day than reggae music? As we prepared celebrate our 20th year of bringing the best global riddims to the Massive, we thought back to some of the most legendary Ska & Reggae Fest shows, the ones that really left an impression – and we couldn't think of anyone who made a splash like KY-MANI MARLEY did in 2011. Playing to a capacity crowd of over 1200 people (With dozens more being denied entry), Marley gave an unforgettable and exhilarating performance, radiating the true joy associated his family name. one foot planted in the reggae traditions that his father helped build and another foot planted in the sounds of reggae musics future. Carrying the torch of the royal family of reggae music, Ky-Mani has been releasing world-class reggae for more than two decades, low-key becoming one of the most prolific and consistent members of the ever-expanding Marley family tree. On top of his own work, Ky-Mani has created global hits with other modern reggae heavyweights like Proteje and Gentleman. A link to reggae's past and a leader of reggae's present, Ky-Mani Marley's return to Victoria, under the sun, bringing in the Summer Solstice is going to be something really special for music lovers of all kinds.

We are also proud to welcome SISTER NANCY to Victoria's Annual Ska & Reggae Festival for the first time!

Sister Nancy is a living legend and one of the most influential female performers in the history of reggae music. She is known to the world as the first dancehall DJ and singer. As the younger sister of underground legend Brigadier Jerry, Sister Nancy is someone that shaped her own life from an early age and learned to survive on her own.

Over the years Sister Nancy has maintained her own career but music will continue to be her passion. We are extremely lucky to have her at the festival as she does not tour regularly.

Getting things kicked off for our Friday night reggae part is are returning Mexican reggae-rockers Mamá Pulpa. Legend has it that their incredible band was forged in the fires of a collective alien abduction that implanted them with extraterrestrial musical knowledge that has led them to be one of the globes most secretly powerful and creative bands. And they return to bestow their intergalactic reggae wisdom to the Massive once again!

Finally HANDSOME TIGER will be providing the best in reggae, drum n' bass and world during interludes throughout the evening!